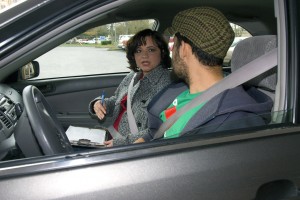 There has been a theory section as part of the driving test for over a decade now, and it was introduced to ensure that drivers had knowledge of all of the different road systems, road signs and driving procedures. On a driving test there is next to no chance of an examiner being able to see a driver in every possible scenario, often because of the area and the length of time that the test takes. In the same way, it is often the case that your driving instructor cannot show you every aspect of driving that you might run into in your area no matter how many driving lessons you have. The theory test is designed to ensure that everyone that takes their driving test has the same level of knowledge.
You need to pass your theory test before you can take your practical so it's a good idea to get in there as soon as possible so that it's out the way and you are free to take your test when you are ready. Not everyone is confident on theory or written tests in the same way that they are with practical, and you may worry about how to pass your theory test. It's important not to forget that this theory test will not be an academic exam, it will be testing our practical knowledge so you might find it helpful to think of it as a practical test out of a car! Everything you should know for driving will be on it, so you may also find it useful as an aid to passing your practical as well.
As with every theory test, the trick is to revise and revise. Don't leave it until the last minute, learn in short bursts to gradually build up your knowledge. If you leave it to the last minute you will never learn everything and you will also end up panicking about the test as well.
There are a number of study aids. There is the theory test book which will tell you everything that you need to know and have practice tests, but there are also websites and computer games that can help test you on what you will be asked in a hands on way. Many people find this preferable to just reading and find that the knowledge sticks more in that way.
As with any exam, turn up in plenty of time and make sure that you have everything you need with you. If you don't pass, don't panic, it may have been nerves or small gaps in knowledge. Find out where you fell down and try again in a short while.