Here at Drive4Life Academy, we provide driving lessons in Chatham for all levels of experience. With a team of highly experienced instructors, we have the knowledge and expertise to make you an excellent driver as quickly as possible.
Learning to drive can be a challenging task and preparation is key if you hope to pass an upcoming driving test. Not only will our driving instructors in Chatham provide you with the skills and knowledge required to remain safe while on the open road, but our decidedly personalised approach is able to address the unique requirements of individual learner drivers.
We're the number one driving school for bespoke lessons, which means we'll take your individual needs into account and adapt our teaching style to suit you.
At Drive 4 Life Academy Driving School we offer numerous courses and levels of training to help you master every aspect of driving from theory training to taking your practical test with as much confidence as possible. Whether you are a new driver or if you're an experienced driver looking for more guidance our team is here by your side all the way through – so why not give us a call today?
What's included in our Chatham Driving Lessons?
Driving throughout the Chatham area first requires a good deal of confidence if you hope to avoid making any mistakes. This operational knowledge is likewise critical from a safety point of view. This is why our driving courses cover such varied topics as:
Mirror, Signal and Manoeuvre: Ensuring you always check your blind spots before changing lanes or making any manoeuvres.
Manual Driving Lessons: All aspects of the operation of manual transmission vehicles are covered in this course including clutch control, gear changing, acceleration and braking.
Hazard Perception: Identifying potential hazards on the road quickly is key to staying safe.
Car Control: Negotiating different types of turns and curves encountered while driving.
Common Road Scenarios: Dealing with sudden situations such as engine issues and emergency breakdowns. Uphill, downhill and parallel parking will help with your practical test.
Theory Training: Explanation of road signs and other aspects of driving which will help you pass your theory test.
It is also interesting to note that our intensive driving courses can likewise provide you with the unique opportunity to speak with other drivers who have been involved with accidents in the past. This enables you to obtain a different perspective as well as to know which common mistakes to avoid.
Our Driving Lesson Prices
| Driving Tuition | | |
| --- | --- | --- |
| 1 Hour Lesson | £28 | |
| 90 minute Lesson | £42 | |
| 2 Hour Lesson | £56 | |
| Block Booking- 5 Hours | £135 | |
| Block Booking- 10 Hours | £270 | |
| Block Booking- 15 hours | £405 | |
| Block Booking- 20 hours | £540 | |
| Block Booking- 30 hours | £810 | |
| Block Booking- 40 hours | £1080 | |
| 2 Hour motorway | £60 | |
| Pass Plus | £170 | |

Intensive Driving Courses
Cover everything you need to know to get your driving licence, perfect for new drivers who don't wish to spend a long period of time learning to drive. Here at Drive4Life Academy, we offer a range of intensive courses, from a beginner's course that will teach you the basics, to an advanced course that covers more difficult manoeuvres.
Motorway Driving Lessons
When you're in the driver's seat, it can be easy to feel invincible. But with so many distractions and potential hazards on the road, that feeling won't last long if you don't know what you're doing. That is why our motorway lessons adopt a proactive approach – because we want all of our students to have an enjoyable driving experience while honing their skills for safer trips down the road!
Get on the road today with our Local Driving Instructors in Chatham
These professional driving lessons in Chatham will have you on the road and ready to face any situation. You'll learn everything from how to navigate motorways and negotiate common surface streets, all with a hands-on approach that's tailored for your needs.
Our Chatham driving instructors are well-versed in the area, so you will feel at ease during driving lessons. Our ultimate objective is to instil confidence in students so that they may take on a variety of routes with confidence. If you are looking for a local driving instructor who caters to all skillsets, get in touch today.
We provide our driving tuition expertise to the following Chatham postcodes and localities:
Rochester, Rochester East Ward, Luton, Hale
ME5 & ME4
Please do not hesitate to contact Drive 4 Life Academy to book your spot today.

Chatham Based Customer Reviews
I got Patrick's details from a friend who passed first time. As a 'grown up' learning to drive in my early thirties, I am used to being in control at home and in the office. What I really appreciated about Patrick's laid-back teaching style was his ability to allow me to think I was working it out as a I went along, whilst all the time subtly passing on the techniques I needed to pass my test.
Diane, Chatham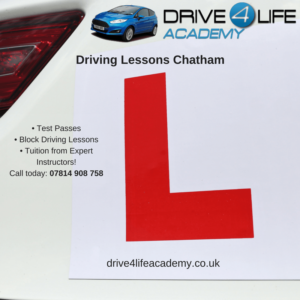 Absolutely not. Our driving lessons in Chatham are tailored to your needs and abilities. Your assigned driving instructor will start with beginner driving lessons and move at your pace.
There are a number of factors which come into play when you're thinking about taking your driving test. Our driving instructors will provide feedback on your progress and let you know when they feel you are ready.
The amount of time it will take to pass your driving test depends on a variety of factors, including your level of experience, the type of car you are learning to drive, and how often you practice.