Efficient, eco-safe or eco-friendly driving. Whichever term you use, driving more efficiently is better for the environment. Along with reducing your carbon footprint, it also helps save money on fuel and vehicle maintenance.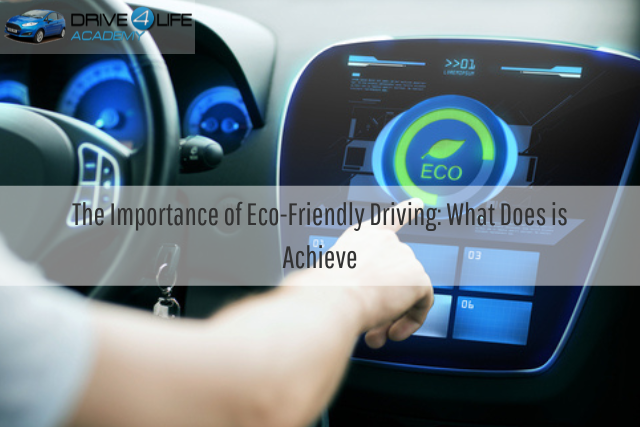 Changing how your drive improves fuel efficiency, reduces emissions and helps you drive safely. Here are some of the benefits of eco-friendly driving and some practical tips that are easy to adopt.
Improved fuel efficiency
Eco-friendly driving means better fuel efficiency. Adopting smoother acceleration and braking, for example, improves fuel efficiency. Opening your window rather than using air conditioning when driving is also more fuel efficient. Under-inflated tyres also increase fuel consumption.
Check your pressure each month and before long journeys to ensure the tyre pressure is correct. You can also improve efficiency by planning your journey and finding the best route by using map apps.
Reduced emissions
Eco-friendly driving reduces greenhouse gas emissions and improves air quality. By increasing fuel efficiency while you drive, you are reducing your vehicle's emissions and carbon footprint. Driving at high speeds, for example, dramatically increases fuel consumption.
Even with electric vehicles, energy consumption is huge when driving at excessive speeds. Along with smoother movements while you drive, reducing speeds will cut emissions. Also, turn off your engine if you are idling for more than a minute.
Safer driving practices
Efficient driving involves better situational awareness, more space and time to react and – most importantly for the environment – improved fuel efficiency.
To drive efficiently, you need to adopt effective observation and anticipation. This includes following other vehicles at safer distances to avoid sudden movements.
It also means driving at slower speeds. Driving in this way improves safety while cutting emissions and improving fuel efficiency.
Cost savings
Eco-friendly driving can help you save money in the long run. For example, reducing harsh manoeuvres and driving smoothly cuts down on vehicle wear and tear.
That contributes to fewer breakdowns and wear on parts like brake pads. Using techniques like smooth acceleration and braking also cuts down on fuel consumption, which also reduces costs.
Benefits of eco-safe driving
Eco-friendly driving reduces fuel consumption, lowers carbon emissions and reduces vehicle wear and tear. Simple changes to the way you drive will reduce your carbon footprint and saves money on fuel.
Adopting practices like smoother movements and avoiding excessive speeds also makes driving safer. If you want a simple, no-cost way to be more environmentally responsible – adopt eco-friendly driving techniques!